Limp Bizkit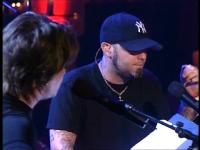 Vi glemmer aldrig det syge terrorist angreb på World Trade Center i New York. Den gang var der en del amerikanske kunstnere, der gik sammen for at støtte de helte, der satte livet på spil for at redde andre under denne tragedie. En del af disse helte mistede også livet.
Limp Bizkit satte sig i denne sammenhæng ned og omskrev vores velkendte Floyd sang og den er nu at finde på pladen "Amerika : A Tribute to Heroes".

Især omstændighederne, gør at de fik en særdeles stærk tekst ud af det.
Musikalsk er det nærmest "unplugged".

Den er lavet og fremført sammen med en John Rzeznik. Da jeg ikke kender meget til Limp Bizkit, kender jeg heller ikke lige noget til hvorfor ham John er med her.
---

Kunstner : Limp Bizkit og John Rzeznik
Sang: Wish You Were Here

---
So, so you think you can tell Heaven from Hell,
Blue skies from pain.
Can you tell a green field
From a cold, steel rail?
A smile from a veil?
Do you think you can tell?

So, do you think we can change,
Everybody that hates,
Before it's too late.
So proud to be free,
But who can we blame?
Don't be ashamed,
Do you think we can change?

How I wish,
How I wish you were here,
We're a world of lost souls swimming in a fish bowl
Year after year.
Running over the same old ground,
What have we found?
The same old fears,
Wish you were here.

We don't need,
Need any more pain.
We just need to remain on the very same page,
So much to gain.
No more losing a friend,
We're losing ourselves.
We just need your help,
So glad you're here.

So glad you're here. --.


Som alle andre der laver hjemmesider, vil jeg også gerne høre din mening om pinkfloydhyldest.dk.
Vær rar at skrive et par ord i min gæstebog