Animals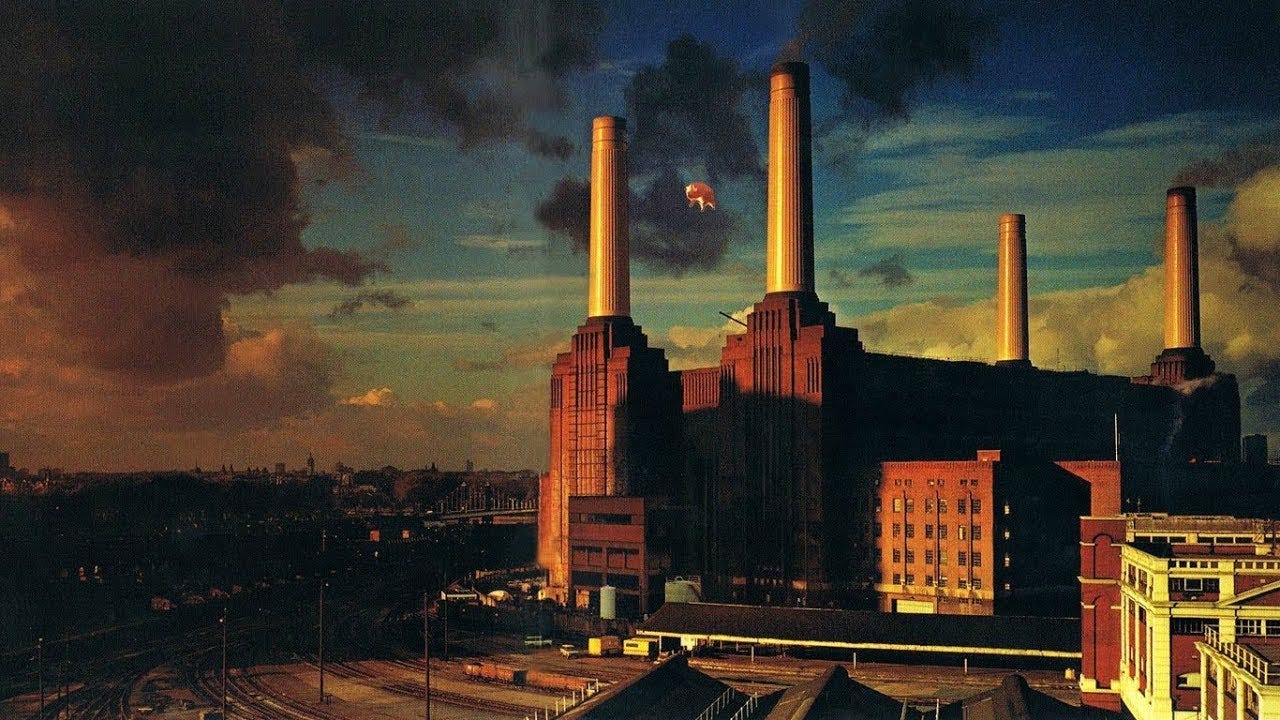 Udgivet: 23 Januar 1977
Produceret af Pink Floyd
Total spilletid: 41'41
Højeste placering UK 2.plads
Højeste placeringUSA 3.plads
Billederne fra coveret er optaget ved Battersea Powerstation i London. Da billederne skulle tages opstod visse problemer. For selvom det er nærliggende at tro, er der ikke tale om ren billedmanipulation. Husk at dette er før Photoshop. - man tog en oppustelig gris på 40 fod og spændte op mellem skorstenene.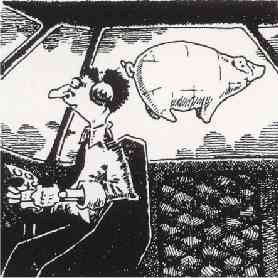 Første dag var vejret for dårligt, og så ville grisen heller ikke flyve (ikke nok helium). Dagen efter var vejret meget fint, og grisen fløj fint. Nåja, lidt for fint egentlig. Wiren som holdt grisen sprang, og grisen begyndte at flyve væk. Det siges at piloten der landede i Heatrow lufthavnen, blev alkoholtestet, da han rapporterede hvad han havde set. En helikopter blev sendt op for at indfange grisen men mistede kontakten med den i 5.000 fods højde! På radar fulgte man grisen op til 18.000 fod med retning mod Tyskland. Den landede dog senere i Kent.
Slutbilledet er en blanding af billederne som blev taget den første dag, og det som blev taget den anden dag. Kraftværket er fra den første dag, mens grisen fra den anden dag.
Videoen til "Pigs (Three different Ones)" som blev brugt til koncerterne blev taget på andendagen.
Den turne Floyd tog på med denne plade hed "In the flesh" og blev for Waters et meget afgørende punkt i karrieren. Det jeg hentyder til her, er selvfølgelig den berømte "spyttescene" fra Olympic Stadium i Montreal.
Det der skete var, at en fan var helt vild nede foran scenen, og Waters vinkede ham op til sig. Da så fanen kom tæt nok på, spyttede Waters ham lige i ansigtet.
Både Waters og de andre Floyd medlemmer (Velsagtens også den våde fan) var rystede over Waters opførsel. Det blev den direkte indledning til at Waters skrev The Wall. Waters gik hjem til sit hotelværelse og tænkte over situationen. Han følte at han var meget fremmedgjort overfor sit publikum og tegnede en skitse med en mur, der skulle symbolisere den adskillelse der var mellem Rockstjerner og deres publikum.
Hvad er det lige titlen er på det nummer The Wall starter med ? Og hvad blev titlen på Waters turnee i år 2000 ? Rigtigt : "In the Flesh"
Mange vil nok sige at dette var starten på Floyds opløsning. Ikke kun Waters følte at "magien" var forsvundet fra deres live-optrædener. Efter "The Dark Side of the Moon"s megasuccess var intet længere som det Floyd kendte, men det er en længere debat, som jeg ikke skal komme videre ind på her..
Nu havde vi fået en hel stribe udgivelser af de gamle velkendte klassikere som Dark Side of the Moon og Wish You Were Here i remixede udgaver, og til min store glæde også i surround, hvilket er noget der virkelig klæder Pink Floyds musik.


I mange år gik rygterne på, at man også ville få Animals i en remixet udgave. Vi nærmede os 2018, og nu skulle det være... eller så ikke alligevel.
Vi skulle tydeligvis helt frem til 2022, før vi kunne få lov til at købe en gennemarbejdet genudgivelse af Animals.
Der var blevet skrevet et forord til pladen, som det var meningen skulle følge med udgivelsen. Det modsatte David Gilmour sig, så udgivelsen blev altså holdt tilbage i 4 år.
Hvis du nu sidder og tænker hvad der dog kunne stå i sådan et forord, der kunne udløse sådan en reaktion fra Gilmour, så kan du læse det her:
og så kan du selv dømme.
Ikke at jeg skal komme med anmeldelser af pladen, men det skal ikke være en hemmelighed, at udspillet blev taget rigtigt godt imod af fans og musikkendere verden over.
I 2015 tog James Guthrie og Joel Plante fat i originalbåndene til Roger Waters plade Amused to Death og tog dem under under kærlig behandling. Det indkasserede de en Grammy for. Så kastede de sig altså over originalbåndene fra Animals.
Og det er ikke kun i en surround udgave, du kan høre opdateringen. Selve skiven fåes både på vinyl og cd, og der er stadig klar forskel på originalen, og det nye mix - ikke bare "lidt mere bas"!
Man kan altid diskutere værdien af sådanne remix. Hvis Pink Floyd havde syntes, at det skulle lyde sådan, så havde de nok mixet det sådan dengang... Tja, men jeg synes nu at det bringer nyt liv til musikken.

I nummeret Sheep reciterer Waters noget, der skal lyde som et brudstykke fra biblen. Det ligger da også tæt på originalen - bare tilføjet lidt Waters humor / sarkasme.
Herunder kan du læse Waters version og ved siden af den oprindelige engelske bibelversion, som ofte bliver læst af mennesker i nød, der har brug for trøst.
~Psalms 23:1-6~

The Lord is my Shepherd, I shall not be in want.
He makes me lie down in green pastures,
He leads me beside quiet waters, he restores my soul.
He guides me in paths of righteousness for his name's sake.
Even though I walk through the valley of the shadow of death,
I will fear no evil, for you are with me;
Your rod and your staff, they comfort me.
You prepare a table before me in the presence of my enemies.
You anoint my head with oil; my cup overflows.
Surely goodness and love will follow me all the days of my life,
And I will dwell in the house of the LORD forever.


Sheep

The Lord is my shepherd, I shall not want
He makes me down to lie
Through pastures green He leadeth me the silent waters by.
With bright knives He releaseth my soul.
He maketh me to hang on hooks in high places.
He converteth me to lamb cutlets,
For lo, He hath great power, and great hunger.
When cometh the day we lowly ones,
Through quiet reflection, and great dedication
Master the art of karate,
Lo, we shall rise up,
And then we'll make the bugger's eyes water.
Kommercielt blev denne plade aldrig den samme success som hverken de to forgående eller de efterfølgende udgivelser. Dermed ikke sagt at pladen er et flop. Der solid musik fra ende til anden, og den er vellidt blandt Pink Floyd kendere - både den originale og 2018 mixet. Pladen fangede bare ikke masserne så let som de andre plader. Noget af grunden, gætter jeg, skal nok findes i det brede publikums manglende forståelse for Waters noget specielle humor og samfundssyn. For der er ikke nogen tvivl om, at det her er en Waters plade, selvom alle fire medlemmer er med til at lave pladen.

"Pigs on the Wing (Part One)" [1'25]
If you didn't care what happened to me,
And I didn't care for you,
We would zig zag our way through the boredom and pain
Occasionally glancing up through the rain.
Wondering which of the buggars to blame
And watching for pigs on the wing.
You gotta be crazy, you gotta have a real need.
You gotta sleep on your toes, and when you're on the street,
You gotta be able to pick out the easy meat with your eyes closed.
And then moving in silently, down wind and out of sight,
You gotta strike when the moment is right without thinking.

And after a while, you can work on points for style.
Like the club tie, and the firm handshake,
A certain look in the eye and an easy smile.
You have to be trusted by the people that you lie to,
So that when they turn their backs on you,
You'll get the chance to put the knife in.

You gotta keep one eye looking over your shoulder.
You know it's going to get harder, and harder, and harder as you get older.
And in the end you'll pack up and fly down south,
Just another sad old man,
All alone and dying of cancer.

And when you loose control, you'll reap the harvest you have sown.
And as the fear grows, the bad blood slows and turns to stone.
And it's too late to lose the weight you used to need to throw around.
So have a good drown, as you go down, all alone,
Dragged down by the stone.

I gotta admint that I'm a little bit confused.
Sometimes it seems to me as if I'm just being used.
Gotta stay awake, gotta try and shake off this creeping malaise.
If I don't stand my own ground, how can I find my way out of this maze?

Deaf, dumb, and blind, you just keep on pretending
That everyone's expendable and no-one has a real friend.
And it seems to you the thing to do would be to isolate the winner
And everything's done under the sun,
And you believe at heart, everyone's a killer.

Who was born in a house full of pain.
Who was trained not to spit in the fan.
Who was told what to do by the man.
Who was broken by trained personnel.
Who was fitted with collar and chain.
Who was given a seat in the stand.
Who was breaking away from the pack.
Who was only a stranger at home.
Who was ground down in the end.
Who was found dead on the phone.
Who was dragged down by the stone.
"Pigs (Three Different Ones)" [11'25]
Big man, pig man, ha ha charade you are.
You well heeled big wheel, ha ha charade you are.
And when your hand is on your heart,
You're nearly a good laugh,
Almost a joker,
With your head down in the pig bin,
Saying "Keep on digging."
Pig stain on your fat chin.
What do you hope to find.
When you're down in the pig mine.
You're nearly a laugh,
You're nearly a laugh
But you're really a cry.

Bus stop rat bag, ha ha charade you are.
You fucked up old hag, ha ha charade you are.
You radiate cold shafts of broken glass.
You're nearly a good laugh,
Almost worth a quick grin.
You like the feel of steel,
You're hot stuff with a hatpin,
And good fun with a hand gun.
You're nearly a laugh,
You're nearly a laugh
But you're really a cry.

Hey you, Whitehouse,
Ha ha charade you are.
You house proud town mouse,
Ha ha charade you are
You're trying to keep our feelings off the street.
You're nearly a real treat,
All tight lips and cold feet
And do you feel abused?
.....! .....! .....! .....! You gotta stem the evil tide,
And keep it all on the inside.
Mary you're nearly a treat,
Mary you're nearly a treat
But you're really a cry.
Harmlessly passing your time in the grassland away;
Only dimly aware of a certain unease in the air.
You better watch out,
There may be dogs about
I've looked over Jordan, and I have seen
Things are not what they seem.

What do you get for pretending the danger's not real.
Meek and obedient you follow the leader
Down well trodden corridors into the valley of steel.
What a surprise!
A look of terminal shock in your eyes.
Now things are really what they seem.
No, this is no bad dream.

The Lord is my shepherd, I shall not want
He makes me down to lie
Through pastures green He leadeth me the silent waters by.
With bright knives He releaseth my soul.
He maketh me to hang on hooks in high places.
He converteth me to lamb cutlets,
For lo, He hath great power, and great hunger.
When cometh the day we lowly ones,
Through quiet reflection, and great dedication
Master the art of karate,
Lo, we shall rise up,
And then we'll make the bugger's eyes water.

Bleating and babbling I fell on his neck with a scream.
Wave upon wave of demented avengers
March cheerfully out of obscurity into the dream.

Have you heard the news?
The dogs are dead!
You better stay home
And do as you're told.
Get out of the road if you want to grow old.
"Pigs on the Wing (Part Two)" [1'23]
You know that I care what happens to you,
And I know that you care for me.
So I don't feel alone,
Or the weight of the stone,
Now that I've found somewhere safe
To bury my bone.
And any fool knows a dog needs a home,
A shelter from pigs on the wing.
Som alle andre der laver hjemmesider, vil jeg også gerne høre din mening om pinkfloydhyldest.dk.
Vær rar at skrive et par ord i min gæstebog