Hovedsider
Biografier
Pink Floyd diskografi
Kontakt
Sitemap
Live at Pompeii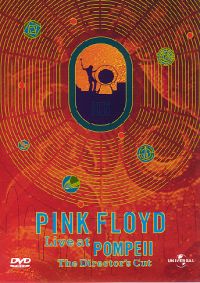 Premiere November 1972
"Instrueret" af Adrian Maben
Først 31 år efter premieren er denne gamle film endelig udkommet på DVD..
Og det er en positiv ting.
Med som ekstra materiale er den oprindelige film ! Altså er denne version lavet meget om. Er man kun interesseret i musikken, bør man dog nøjes med den originale version, da den nye forlængede version "afbrydes" af en masse andet.
Der er tilføjet to numre til den nye version : "Us and Them" og "Brain Damage". De to numre har selvfølgelig intet med "Live in Pompeii" at gøre, da de jo som bekendt er fra Floyds næste album. Forøvrigt er de heller ikke live. De er optaget i studiet under optagelserne til "Dark side of the Moon", og det er kun brudstykker af dem man hører.
Det kan være en god idé at se instruktøren Adrian Mabens kommentarer inden man ser den nye forlængede version - så forstår man bedre hvad det er man ser.
Dét man ser er selvfølgelig de oprindelige optagelser fra amfiteatret i Pompeii og en masse scenarier fra området. Krydret med animererde optagelser af Pompeii før og under vulkanudbrudet og en del fra det ydre rum ! Så ser man også nogle optagelser fra Paris med en del syrede interviews af Floyd-medlemmerne. Ydermere er der så en hel del fra Floyds optagelser i studiet, til "The Dark Side of the Moon".
Det kan selvfølgelig lige tilføjes at Mademoiselle Nobs er navnet på den hund der er med her i Pompeii. Nummeret er sådan set det samme som det velkendte Seamus fra Medlle
Dengang var det bare en anden hund og dermed en anden titel på nummeret.
Er du ikke helt forgabt i Floyd, men bare en nyder af deres musik, forslår jeg at du holder dig til den originale version, der så også er god musik - om end af Floyd i æraen før "The Dark side". Selvfølgelig er der her tale om live musik. IKKE noget med playback !!
---
Intro [3:28]
intumental
Echoes Part 1 [11:27](Waters, Wright, Mason, Gilmour)
Overhead the albatross
hangs motionless upon the air
and deep beneath the rolling waves
In labyrinths of coral caves
the echo of a distant time
Comes willowing across the sand
and everything is green and submarine

And no one called us to the land
And no one knows the where's or why's
Something stirs and something tries
Starts to climb towards the light

Strangers passing in the street
By chance two separate glances meet
and I am you and what I see is me
And do I take you by the hand
and lead you through the land
And help me understand the best I can

And no one calls us to move on
and no one forces down our eyes
No one speaks and no one tries
No one flies around the sun
Careful with that Axe Eugene [6:31](Waters, Wright, Mason, Gilmour)
Stars screamer
Baby Cry
Liar liar
Careful
careful
Careful with that axe Eugene
A Saucerful of Secrets [9:53)(Waters, Wright, Mason, Gilmour)
Instrumental
a. Something Else
b. Syncopated Pandemonium
c. Storm Signal
d. Celestial Voices
One of These Days [5:43](Waters, Wright, Mason, Gilmour)
One of these days, I'm going to cut you into little pieces


Mademoiselle Nobs

Set the Controls for the Heart of the Sun (Waters) [10:04]
Little by little the night turns around.
Counting the leaves which tremble at dawn.
Lotuses lean on each other in yearning.
Under the eaves the swallow is resting.
Set the controls for the heart of the sun.

Over the mountain watching the watcher.
Breaking the darkness
Waking the grapevine.
One inch of love is one inch of shadow
Love is the shadow that ripens the wine.
Set the controls for the heart of the sun.
The heart of the sun, the heart of the sun.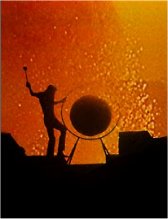 Witness the man who raves at the wall
Making the shape of his questions to Heaven
Whether the sun will fall in the evening
Will he remember the lesson of giving?
Set the controls for the heart of the sun
The heart of the sun, the heart of the sun.
Cloudless everyday you fall
upon my waking eyes
Inciting and inviting me to rise
And through the window in the wall
come streaming in on sunlight wings
a million bright ambassadors of morning

And no one sings me lullabyes
and no one makes me close my eyes
So I throw the windows wide
And call to you across the sky....
Som alle andre der laver hjemmesider, vil jeg også gerne høre din mening om pinkfloydhyldest.dk.
Vær rar at skrive et par ord i min gæstebog